You Just Missed Out On This Insane Trading Opportunity Because of Me
12 days ago, I brought you the news of an amazing NFT trading opportunity if you are playing @risingstargame after providing analysis on how great of a deal it all was. This is what I had to say on that day:
I have only bought 3 cards due to my lack of liquidity and I have left 5 more cards to be purchased at ~16.67% discount based on pure utility alone. But we all know that supply and demand play a vital role i the markets when it comes to NFTs. There will be 9,999,999 Cards of each of these Fan/SkillBoosts. There will only be 1,000 S5 Mozart cards. You are in for a huge treat with this investment opportunity that nobody seems to be looking at.
I'm not the only one to make use of a good time like this. As far as I know, @d-zero got the best deal buying S5 Mozart for less than 4.5 HIVE. I bought 4 remaining Cards at 5 HIVE.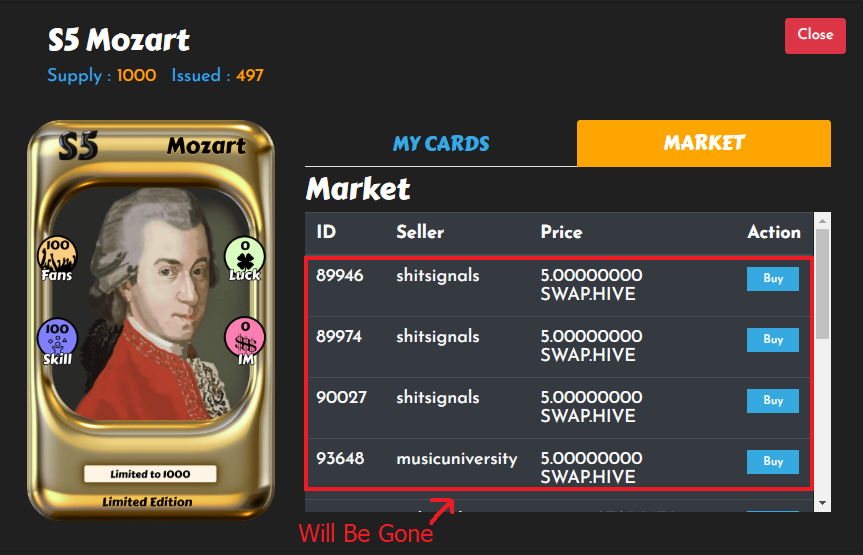 Why is It So Great
It all comes down to what cost to get what you want in game in terms of stats which determine what missions you can play and what you earn as rewards. This is how much it cost to get 100 Fans using various FanBooost Cards:
FanBooost 1 = 4 HIVE
FanBooost 5 = 30 HIVE
FanBooost 10 = 5 HIVE
FanBooost 50 = 13 HIVE
FanBooost 100 = 5 HIVE
These numbers should already make you realize the opprotunity at hand. But allow me to show off what it cost to get 100 Skill using various SkillBoost Cards:
SkillBoost 1 = 2 HIVE
SkillBoost 10 = N/A
SkillBoost 50 = 8 HIVE
SkillBoost 100 = 8 HIVE
Any Price Below 6 HIVE Should Be Treated As A Fire Sale
I am yet to come across a game similar to @risingstargame which has grown up from the community with small but strong roots. An early card with a limited supply of 1000 is going to be worth more that the mere stats it provide for the gamers. This is a card with collectors value.
This is what leads me to the current state of the market. Considering that 10,000 STARBITS can be treated as 5 HIVE, we are still at reasonable price ranges. You are not too late.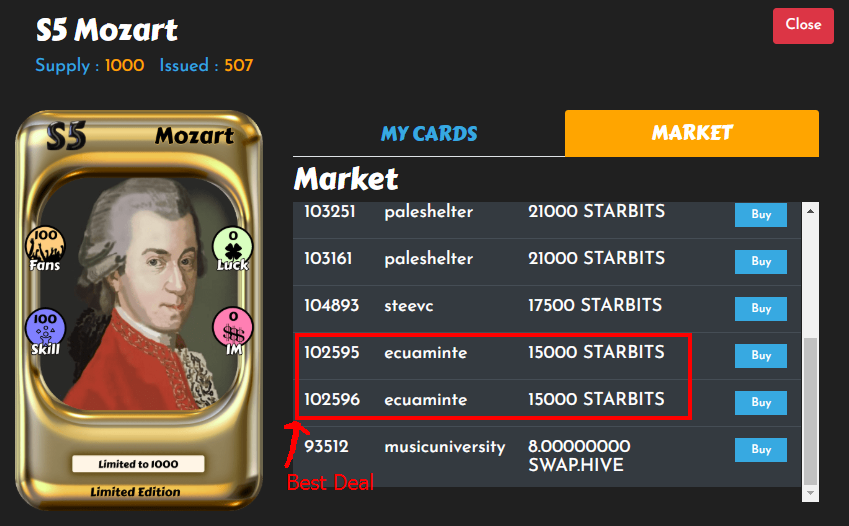 Future reading