UniLend Partnership with Tidal, playcent and stafi protocol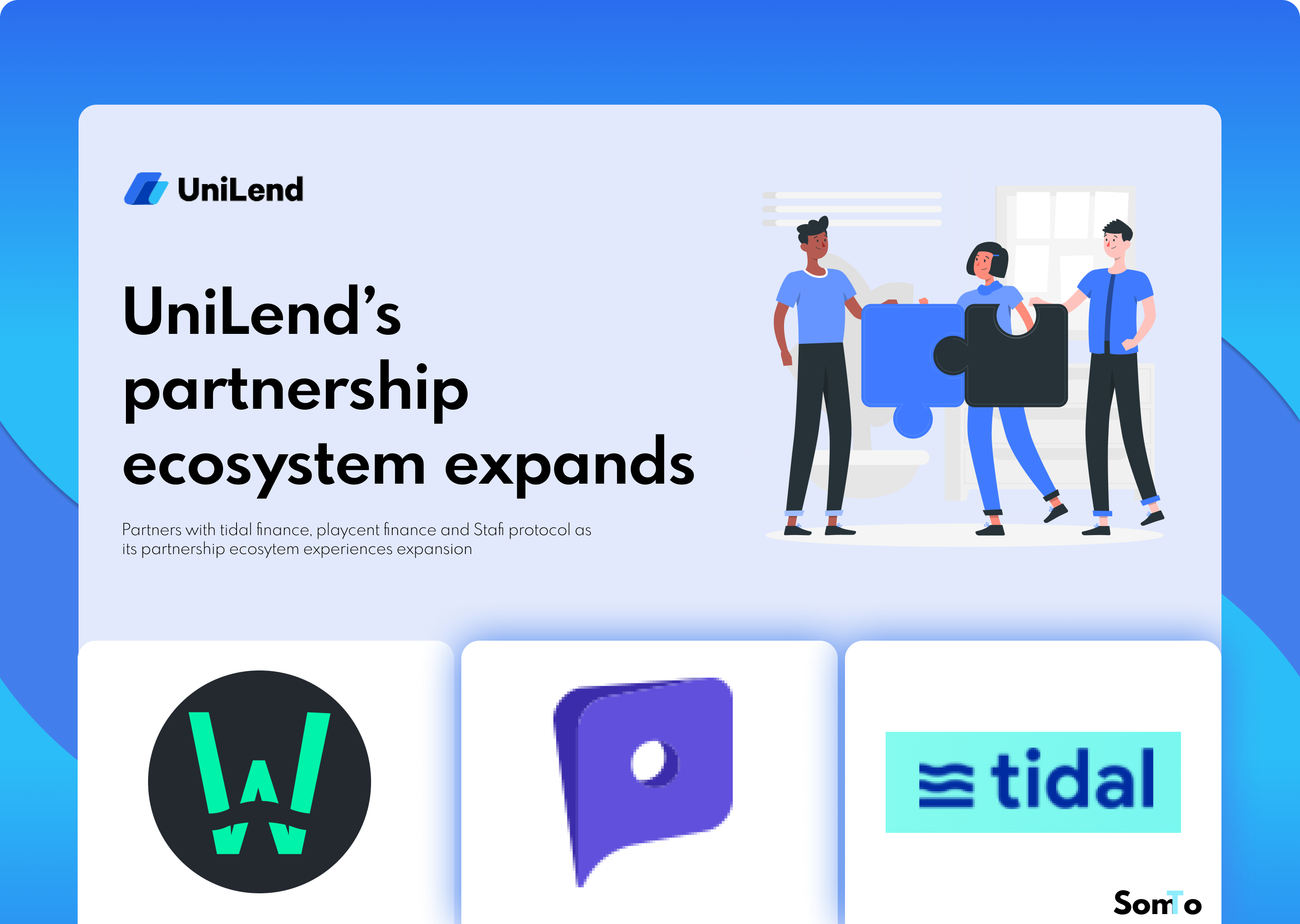 Recently, UniLend has partnered with a number of intriguing platforms in the DeFi ecosystem. One of them is Tidal Finance. The partnership with Tidal Finance will result in Tidal Finance securing the assets of those using UniLend Finance through DeFi insurance products.
Apart from the aforementioned, UniLend will become a part of the risk pools that Tidal runs. The liquidity providers on Tidal will have access to numerous alternatives when they use their liquidity.
Tidal is focused on improving the security of the DeFi community, and that is why it created a customizable smart contract cover marketplace which works on the Polkadot realm.
As for UniLend, it is a permissionless DeFi protocol that offers money market features like borrowing, lending and spot trading. It is different from the other protocols in existence because it is permissionless, meaning that it allows any user to list a ERC20 asset on the platform.
With this partnership between Tidal Finance and UniLend Finance, the security on the latter will increase tremendously, which is what every user craves. Users will be able to protect their digital assets via an insurance plan.
UniLend recently entered into another partnership with a DeFi gaming and interactive content platform, Playcent. This partnership will drive massive adoption of DEFI gaming and Interactive content. The DeFi gaming ecosystem is a massive one, and with the partnership by both giants, it will improve the features and attract more users.
Playcent intends to add $UFT as a digital currency in its gaming ecosystem. At first, the $UFT can be spent by users while using the gaming platform. They can easily purchase things like subscription, assets and much more on the Playcent ecosystem. This heralds good tidings for UniLend Finance, as it will improve the use of the token, and drive more people to benefits from the incredible perks on UniLend.
The partnership between UniLend Finance and StaFi network will lead the former to adopt the StaFi's rTokens. Once this is done, every user of the former will enjoy the perks of earning staying rewards when they trade with their rTokens. They can get perks when their rTokens are collateralized, used to supply liquidity, traded and so on.
Those using UniLend Finance ecosystem will have access to innovative ways of getting yield generation, with UniLend partnering with StaFi protocol.
rToken's users can effortlessly add their assets to the UniLend platform and borrow other assets, while using the former as collateral. The advantages of using the StaFi's rToken are out of this world, as UniLend users can easily stake, while having access to trading and other decentralized financing opportunities.
Future reading