Top 10 businesses you can start with 100k in Nigeria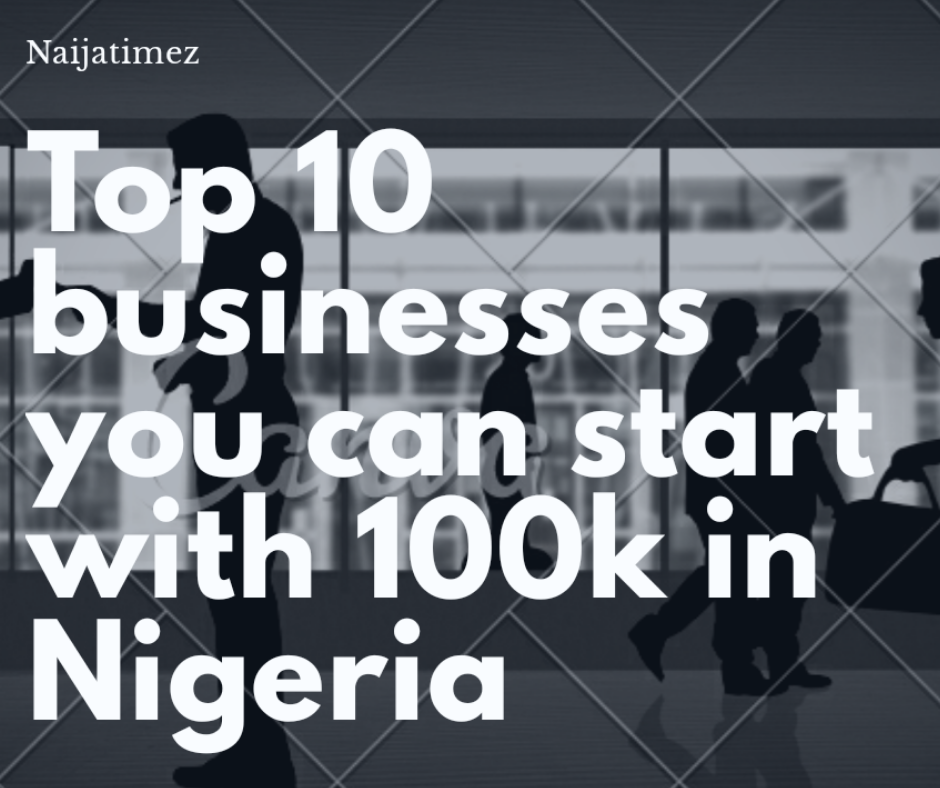 In every business you need the right attitude to approach them or else the business will crash.
In business make sure your friends and family pay for goods sold.
If you feel you're too big for a certain kind of business, then there is probability you ll crash.
There's something we Yorubas call "Afarawe" Copying others lifestyle, don't do it!
Here are top 10 businesses you can start with 100 thousands naira in Nigeria.
Bedsheet Production.
In some part of Nigeria for example pay a visit to Lagos Island, or Oshodi where, this are areas where they sell bulk materials, select good designs and trust me there are guys who will sew it for you just within the same Market you bought the goods. You can start will less that 100k and diligently, and with a matter of time, you grow your money.
Home Service Barber:
This is a profitable small scale business, this is a vocational job that can earn you cool cash, The beautiful thing about this is you bringing your services to your clients for an extra token above regular. The starting capital to get the equipment and clippers, for you to perform this job and you are good to go.
Home Cooking and Delivery:
You can cook a variety of meals well from home and apply customer service, People will pay good money for your services, You can run this from home for events and occasion purpose, you need some training on that, and less 100k should be okay to start your own.
Mobile and electronic Accessories
Mobile and electronic Accessories such Pouches, Chargers, USB cables, HDMI cables, earphones mobile phone parts, can be sourced on Alibaba, Ali Express, Deal Extreme, and more The more you order the lower the price. And they are light so shipping won't be a burden, or buy your good from computer village in Lagos State in you are a Nigerian. Open your own store to resell the good in your area, you don't need to be a phone engineer to do this, less than 100k should be okay for starting this business.
Cakes and Confectionery
This is one business that always comes to play, people celebrate most especially birthdays, and bakers are always consulted time to time.
There are caterers with good skills. Get the required skill, a decent oven, passion and customer service! You will grow in a matter of time.
Earn through Blogging
blogging is also a good way to earn cash online, it requires persistence and ability to create good contents on your website, many Nigerian runs entertainment blog which they earn through advertising on there website through Google adsense, and affiliate, get a domain and a social marketing strategy, most importantly you will need to get at least a Used Laptop and Smartphone, temporarily your smartphone can double as your hotshot persistence and Passion is Key.
E-Payments and POS Business:
Do you know that you can a get POS machine from your Bank, and activate online banking If you live in a place where banks aren't much, that sounds crazy, you can handle the e payments for people and make your small change, especially places where atm queue are crazy.
Cleaning Services
There are people find it hard to clean their apartments because they're busy from Monday to Friday and Saturday the having engagement on Sunday all they wanna do is rest. To start this business your tools won't cost you up to 30k and you can clean 6 apartments a weekend.
Internet Services
Forget the extensive coverage of internet and the fact that people can assess it on their phones, Do you know how much applicants pay just to have Jamb applications filled online? You need a good system, printer & ISP. People pay as much as 1k per application to open obtain the form.
Tutorial Classes
This is another well paying job, either you want it as part-time or full-time. There are families that are willing to spend what it takes for their children's success and there's one subject you're well versed at. Just close the gap, meet their need for a fee
The important thing you should know is that there so much one can do with very little, it takes persistence, focus, interest and above all hardwork. We can't all be rich but we all shouldn't be poor.
https://share.naturalnews.com/people/fbed53b0457b0139ceb10cc47a1df5f2
Future reading