THE UNIVERSE- LET'S TOUCH THE SUN
Nasa, the US space agency, has introduced a mission to bring a satellite closer to the Sun than ever before.
The Parker Solar Probe rocket lifted off from Cape Canaveral, Florida. The probe is on track to become the fastest man-made object in history. Its data has the ability to solve long-standing questions about the Sun's actions. The name of this craft is parker after the name of a living man who is an astrophysicist - Eugene Parker, 91, who first described solar wind in 1958. ![image.png]
"Wow, we're off to a good start! Over the next few years, we'll be learning a lot "He said this after witnessing the lift-off from the scene. In anticipation, the University of Chicago professor said he had been chewing his nails. At 03:31 a.m. local time, the Delta-IV Heavy rocket holding the probe lifted off (07:31 GMT).
It followed a failed attempt the day before, when a last-minute warning forced the department to miss its 65-minute window. Nasa announced just under an hour after the launch that the spacecraft had successfully separated and the probe had been released into space.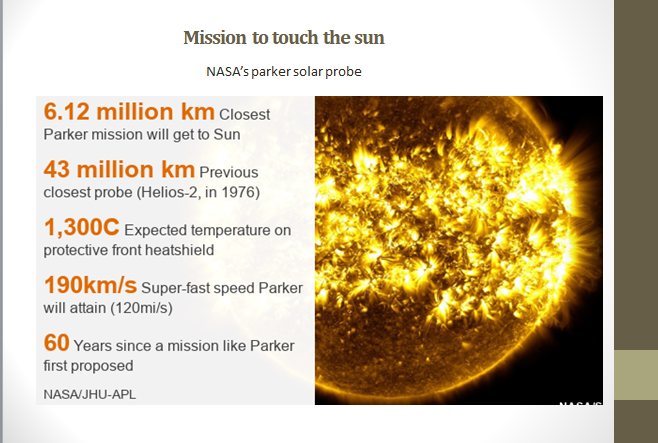 The function of Probe
the probe will be fit into the rocket and will be directly dipped into the outer layer of stars. this mission is of importance because the probe will zip past the venus within six weeks. after this time period, further six weeks will be required to rendezvous with sun . the scientist will be required further seven years to make 24 loops across the sun in order to study its atmospheric layer that affect the most to earth. once the probe ill fit into the corono the atmospheric layer, sampling the conditions and getting to just 6.16 million km (3.83 million miles) from the Sun's broiling "surface". imaine that ho close the sun and earth will be. According to the Dr Nicky Fox, the UK-born project scientist, the parker probe could be just 4cm away from the sun. after this research it is claimed that this probe will be the first fastest man made probe ever that will travell at the highest speed of about 430,000mph [690,000km/h] - New York to Tokyo in under a minute!".
Thank you!!
Future reading