💸📈 THE GOLDMAN SACH GROUP ANALYSIS
Key facts: • Goldman Sachs had solid second quarter, with revenue up 16 % and net income nearing all-time highs. • It is the most active in M&A, with a record backlog of deals. • The financial giant is trading at just 7.5 times earnings.
The corporation is coming off another strong quarter, with revenue up 16 % year over year to $15.4 billion and net earnings of $5.3 billion, the second-highest quarterly total in company history. It had a much greater return on equity than the typical bank, at 23.7 %.
Investment banking, global markets, which includes institutional trading, asset management, and consumer banking and wealth management are the four core business areas at Goldman Sachs. While sales from the global markets division declined, revenue from the other three business lines increased. Investment banking revenue increased by 36%, asset management revenue increased by 144%, and consumer and wealth management revenue increased by 28%. In the quarter, Goldman Sachs placed first in M&A and equity offerings, and it has a record backlog of projects in the pipeline. In addition, revenue records were set in both asset management and consumer banking/wealth management.
Goldman Sachs offers an excellent dividend in addition to its potential for share price increase. It has increased its quarterly payout by 60% to $2 per share, resulting in a yield of 2% at current share prices. Its payout ratio is under 23%, implying that the dividend is less than a quarter of earnings and Goldman Sachs is in good financial form, having cut operating expenses by 17% year over year in the second quarter and raised its operating margin to about 46%. Furthermore, despite increasing its book value by 12% year to date, Goldman Sachs is still trading at a low price-to-book ratio of roughly 1.4. (lower than competitor Morgan Stanley at 1.9).
The stock is currently ~3.5% below its All-Time High ($420.76). Currently the stock is consolidating in a flat base. If the stock moves above $408.88 with optionally higher than average volume, it might be beneficial to buy the stock.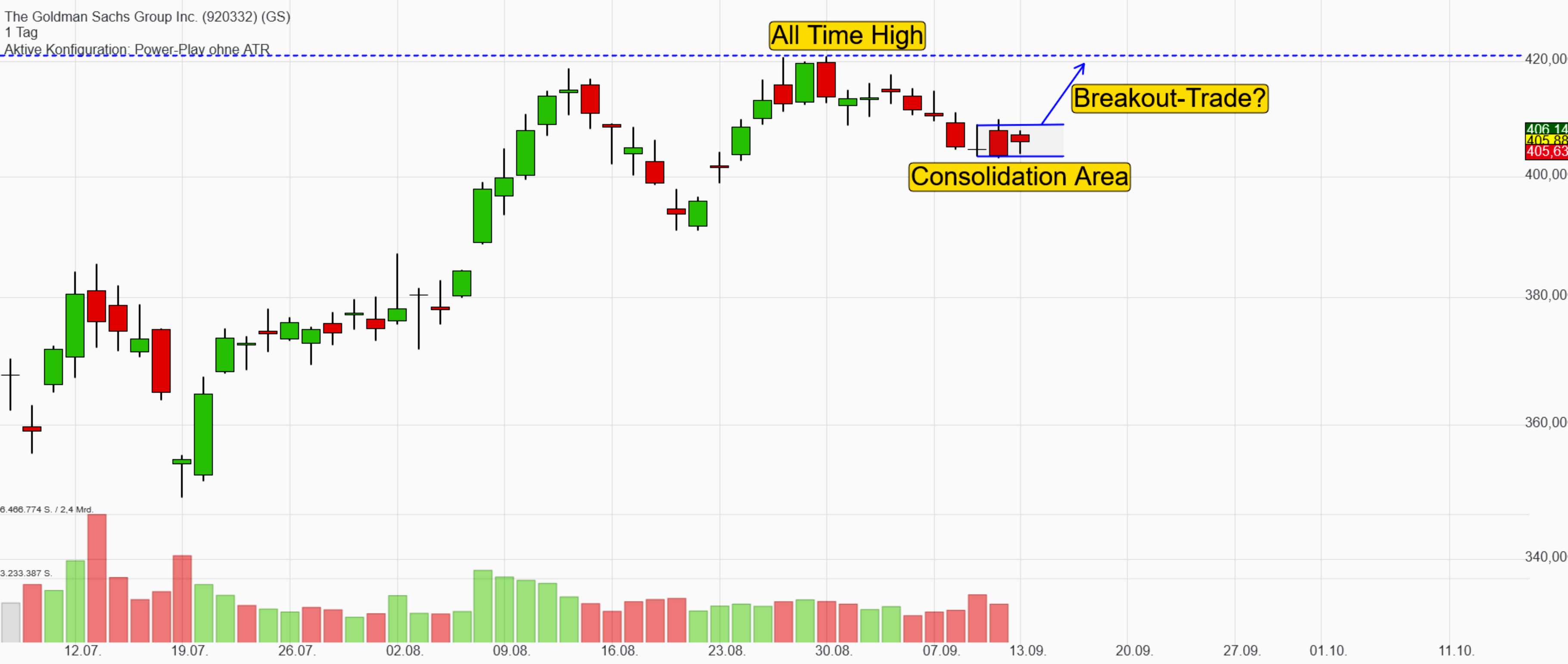 ---
🚫 No investment advice, I am just displaying my personal opinion which might be wrong!
Future reading