Review!! Foodcourt The most innovative Yield Farming

In the previous post, I wrote about Northbridge, the cross-chain bridge between Binance Smart Chain and Polygon Network. However, there is one inevitable thing that every bridge tool has to face which is low liquidity. Hence, they started to partner with other financial platforms to solve this issue. Likewise, NorthBridge partnered with Foodcourt finance to solve this issue. After following the project for a while, I found out that this finance platform is different from other PancakeSwap clones that are able to solve this real problem (low liquidity) and triggers all-new innovative products. This is a wow moment for us.
In this article, I have listed and reviewed their product so that everyone gets what the products are all about and how they solve the problem. Foodcourt Products
Currently, the Foodcourt finance has three unique and creative yield farming products.
Wrapped yield farming
Instead of building a farm of the traditional token, Foodcourt showed their innovation in this field by bringing a popular safe-prefix token like Safemoon, SafeMars to their yield farming. They implemented it by creating a wrapped token to represent the original token to prevent tax during the transactions.
Now, the farmer only needs to pay taxes on start wrap or unwrap tokens. then the wrap token will enable them to freely move the wrap token around the Foodcourt ecosystem.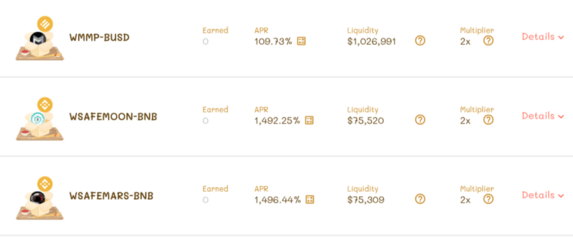 Instead of relying on the only farm, the farmers can make stakes with Snackbar (Pool) as shown in the screenshot below: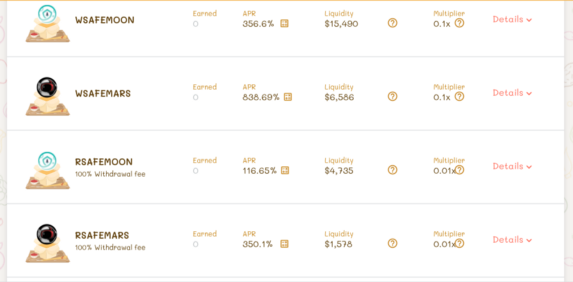 Double standard yield farming
This yield farming protocol is another innovative approach from Foodcourt for solving the liquidity issue on the Northbridge. The farmers can now start providing liquidity on Matic tokens from both sides for low impermanent loss.
KMATIC represents the value from MATIC tokens on Polygon Network.
MATIC represents the value from MATIC tokens on Binance Smart Chain.

By bringing two tokens together, a farmer can earn an additional yield from the bridge fee.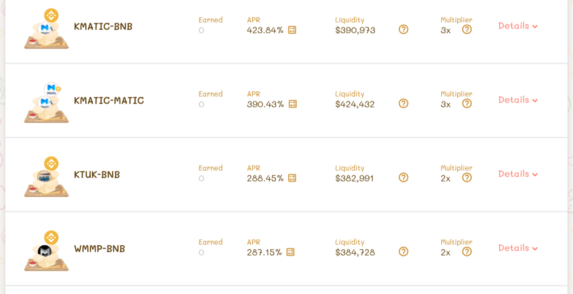 My Favorite food
The most simple thing to create value for governance tokens is to bring value to the offline world. Even the big names on this market are hesitant from doing that and have not done it yet as a result.
The process is simple. In order to join a voting campaign, you need to buy a COUPON token and cast your vote. Then, you will get redeem a coupon that can be used for a different purpose.
Here is an example to help you understand with more simplicity:
Foodcourt starts voting campaign for the list of new farms or pools.
You can use the COUPON token that you possess to cast your vote.
For every Coupon that you vote for, you will receive a Special Coupon to use on the FoodCourt partnership. They also have an offline shop where you can use the Special Coupon.
All COUPON will be burned and the team will evaluate the multiplier. Then, there will be the process to list pools that win the vote.
For more use cases and shops that where you can redeem the coupon, you can take a look at the official documentation.
Conclusion
For other features and information, you can definitely take a walkthrough of their site. In this review, I have highlighted some of the most intriguing and amazing attributes that I found regarding the Foodcourt finance. I hope this review of their unique products will make you feel interested and amazing too.
Despite the unique features they have facilitated, they got misunderstood by the Rugdoc team. However, they have sent an open letter to the Rugdoc team regarding their concerns.
Future reading