First time making doughnuts & fibonacci trades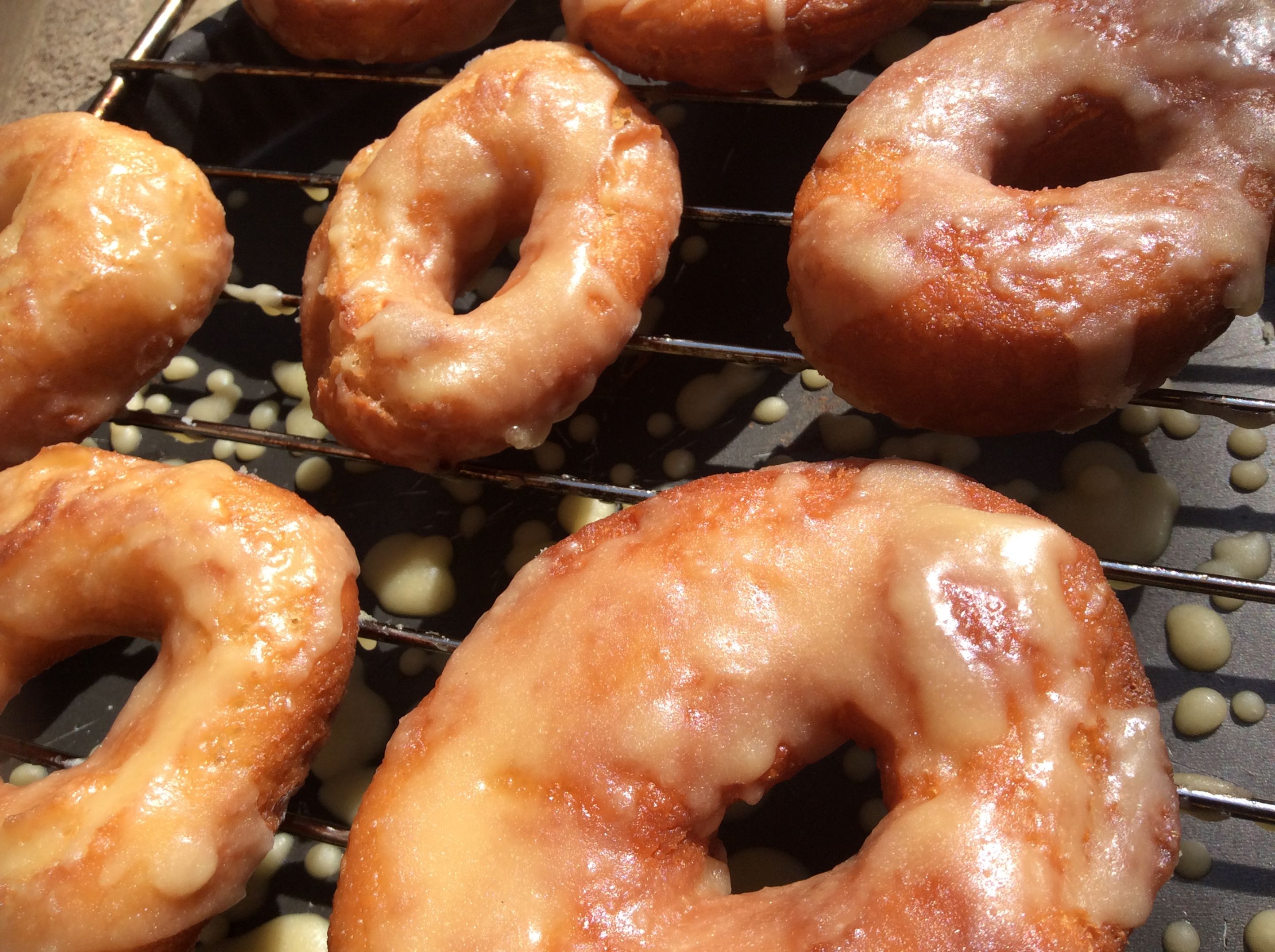 Esteban asked me if we could make doughnuts yesterday morning and my first reaction was "don't know how" but then I thought about it for a moment and realised I can't possibly call myself a master baker if I don't know how to make a humble doughnut. I checked online for the ingredients and declared at once this is what we would be doing today! Esteban was overjoyed and it warmed my heart when he told me I was the best dad in the world. I told him he will be an even better one.
Turns out the only difference between this and the dough I use to make my daily bread is the addition of an egg, sugar, butter & milk. And a little nutmeg. None of us drink cows milk in this house so I switched this with almond milk. Still searching for decent butter alternatives if anyone has suggestions?
The dough itself was very sticky and difficult to work with on the table. It required lots of oil to stop it getting stuck to everything. I recall at one point exclaiming "I'm never doing this again!" but I hadn't tasted them at that point ;)
After resting for two hours the dough was ready to turn into these round shapes. It wasn't easy without the correct tools but a tea cup & a shot glass worked alright in the end, pressed down hard to create the two circle sizes.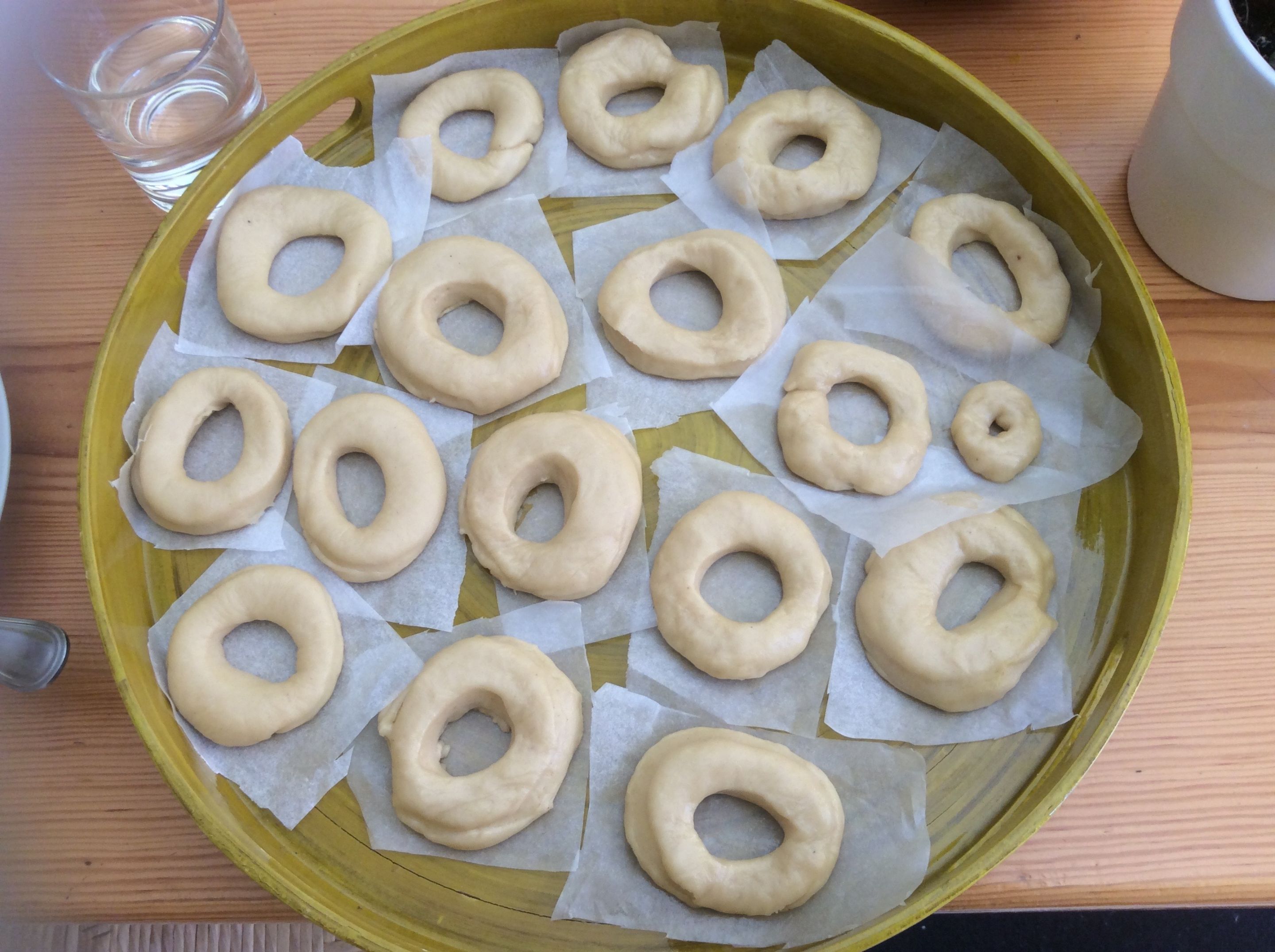 The individual squares of grease proof paper made them easier to work with in the next stage.
Obviously this is not the healthiest kind of food as doughnuts are deep fried in oil, but I don't care today. They are deep fried cakes basically!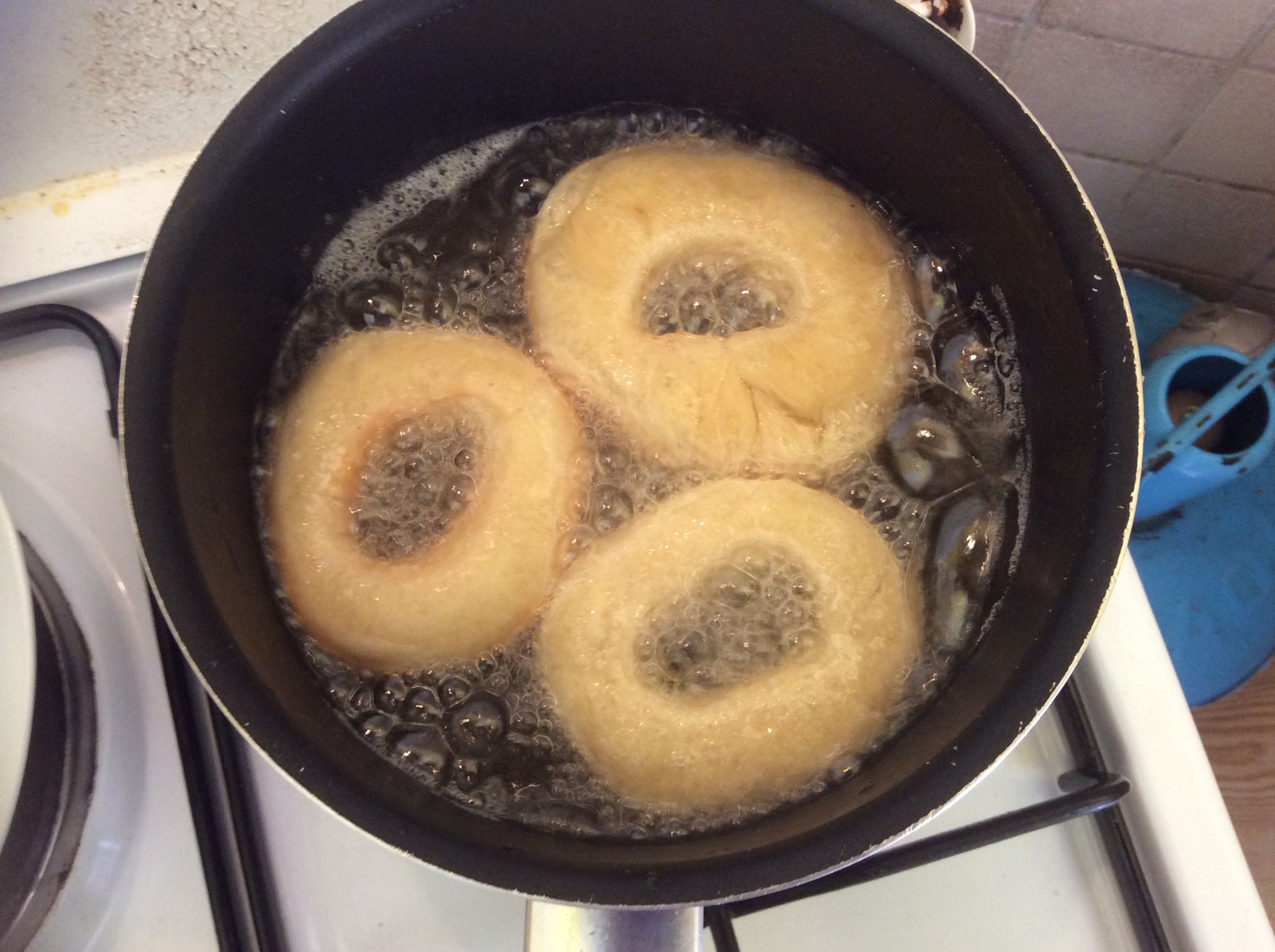 They only need to cook for a minute on each side before they are ready.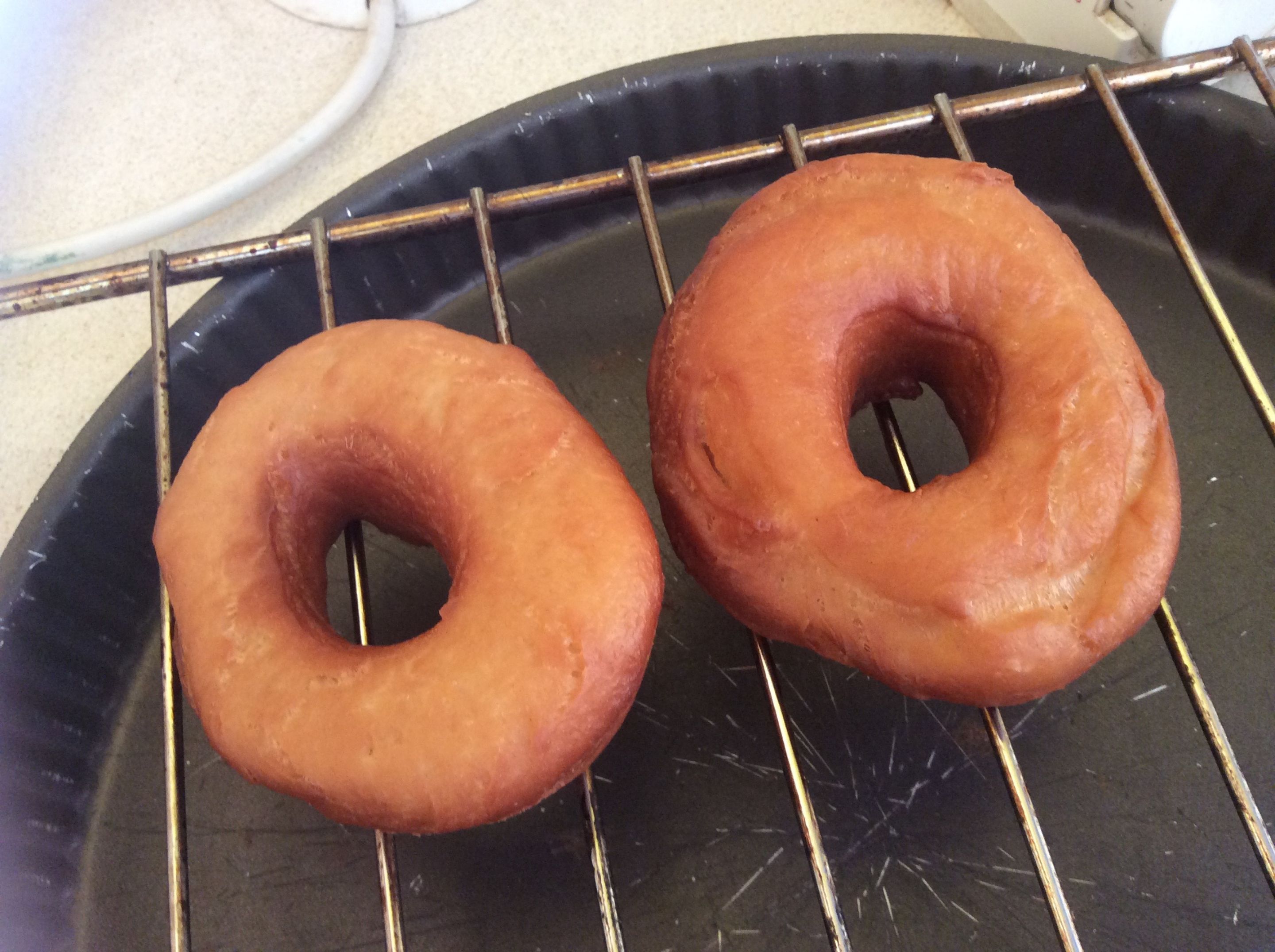 I made the glaze with more butter, more sugar, a dribble of almond milk and vanilla essence. Once heated up the glaze becomes a liquid and it is dripped on top as desired.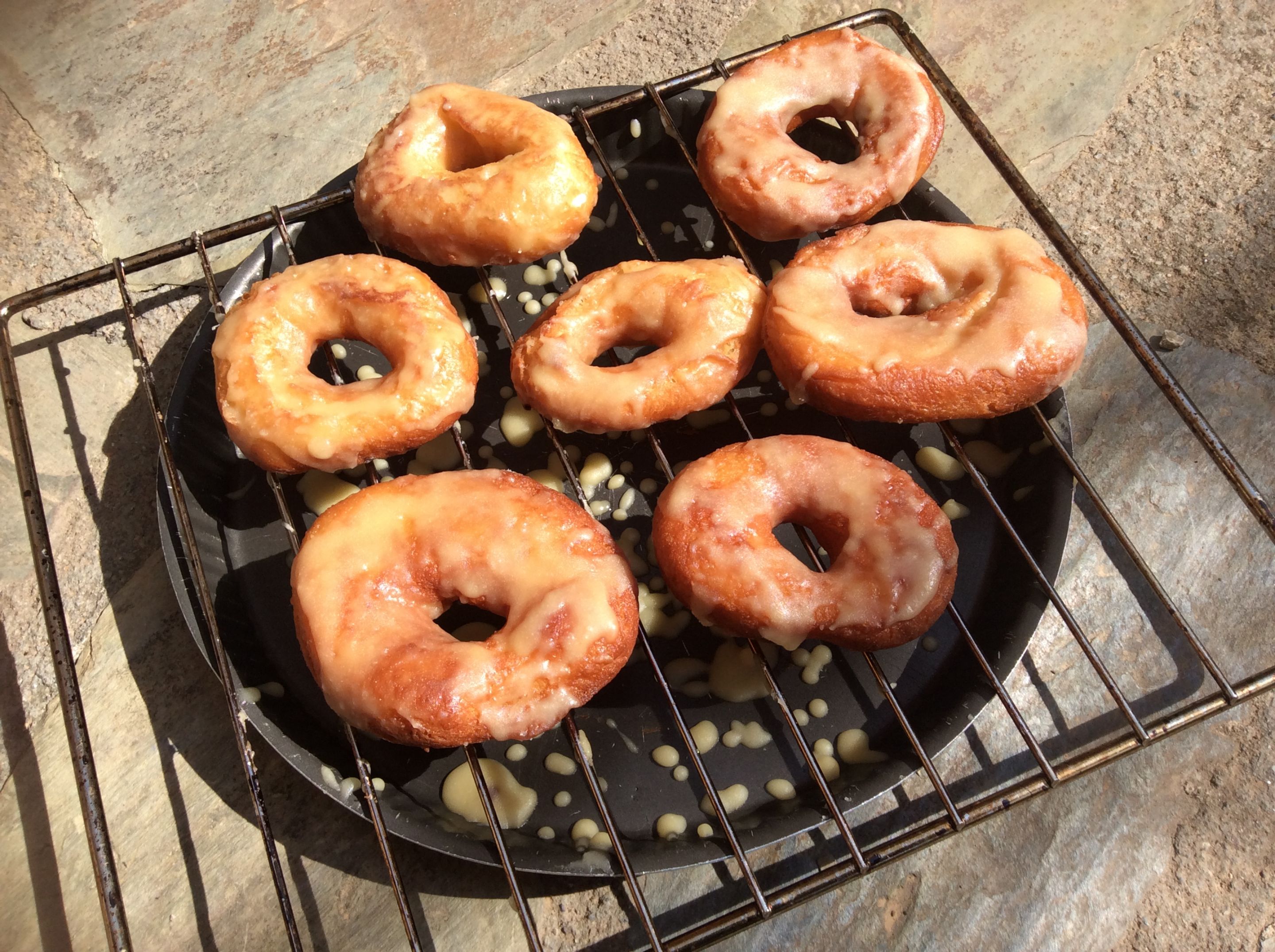 I left a few of them with icing sugar and no glaze, just in case the kids didn't like it. And I made one little cute one with the last small bit of dough.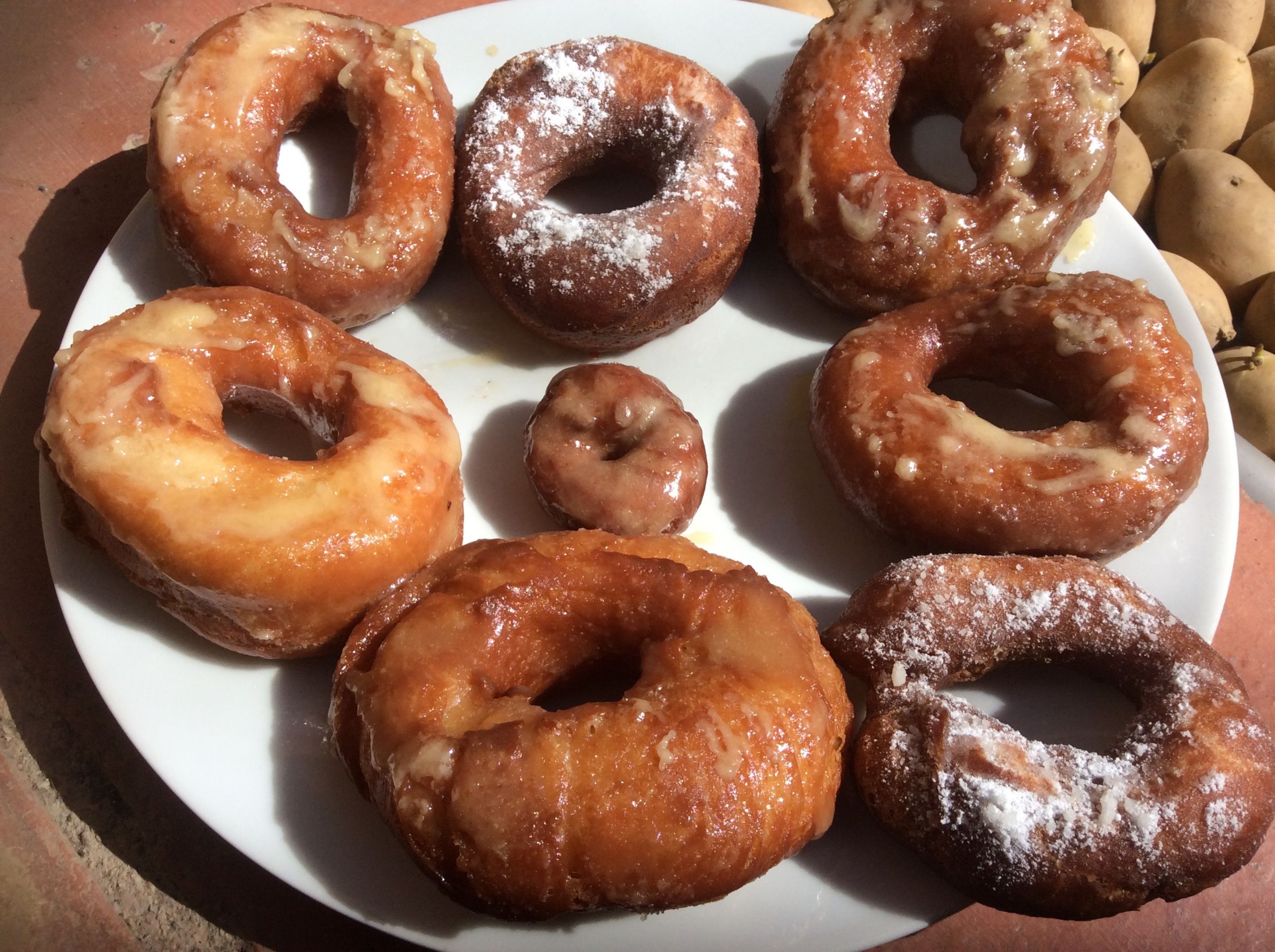 After lunch it was tasting time.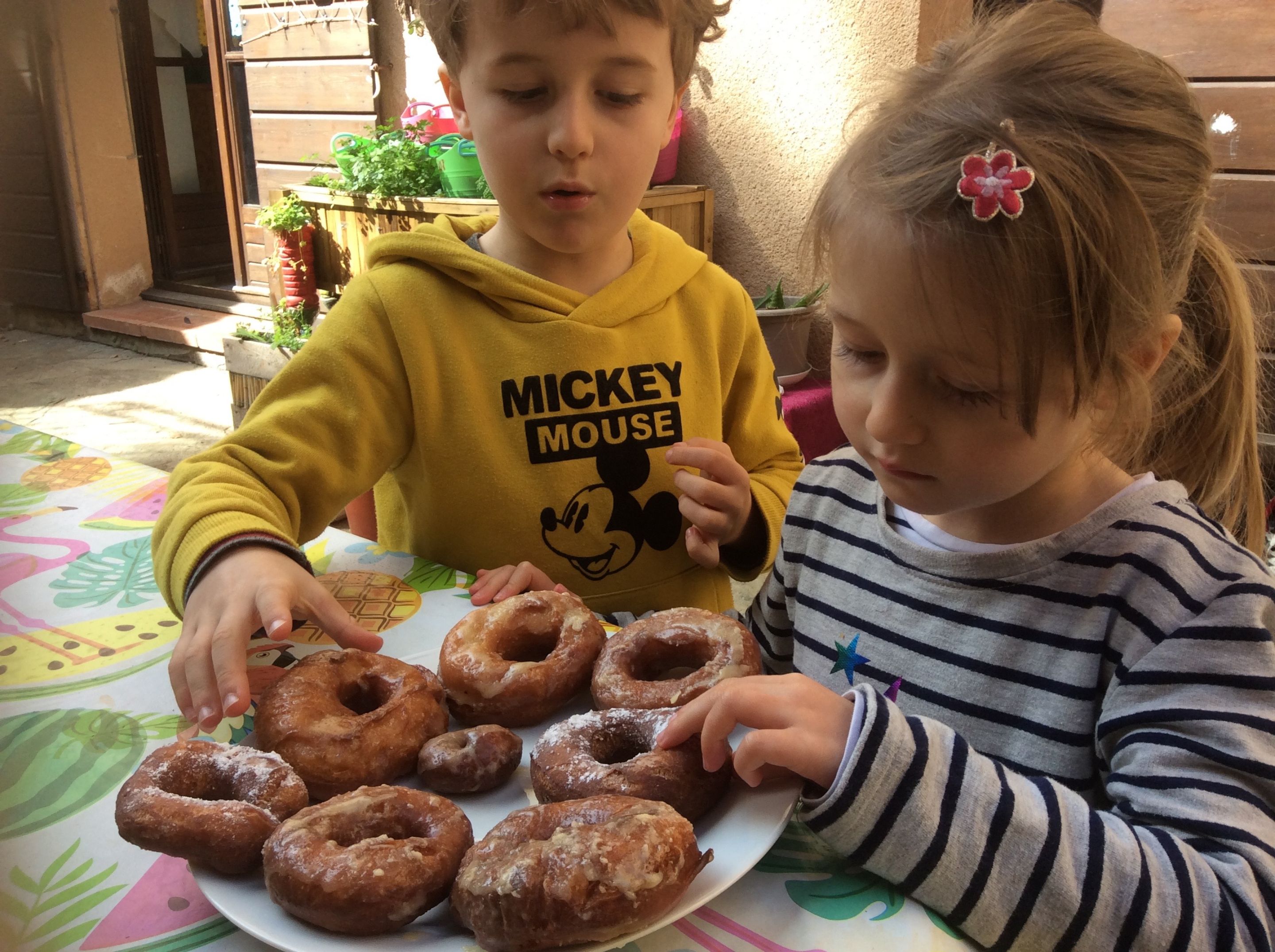 Esteban went for the little one first ;)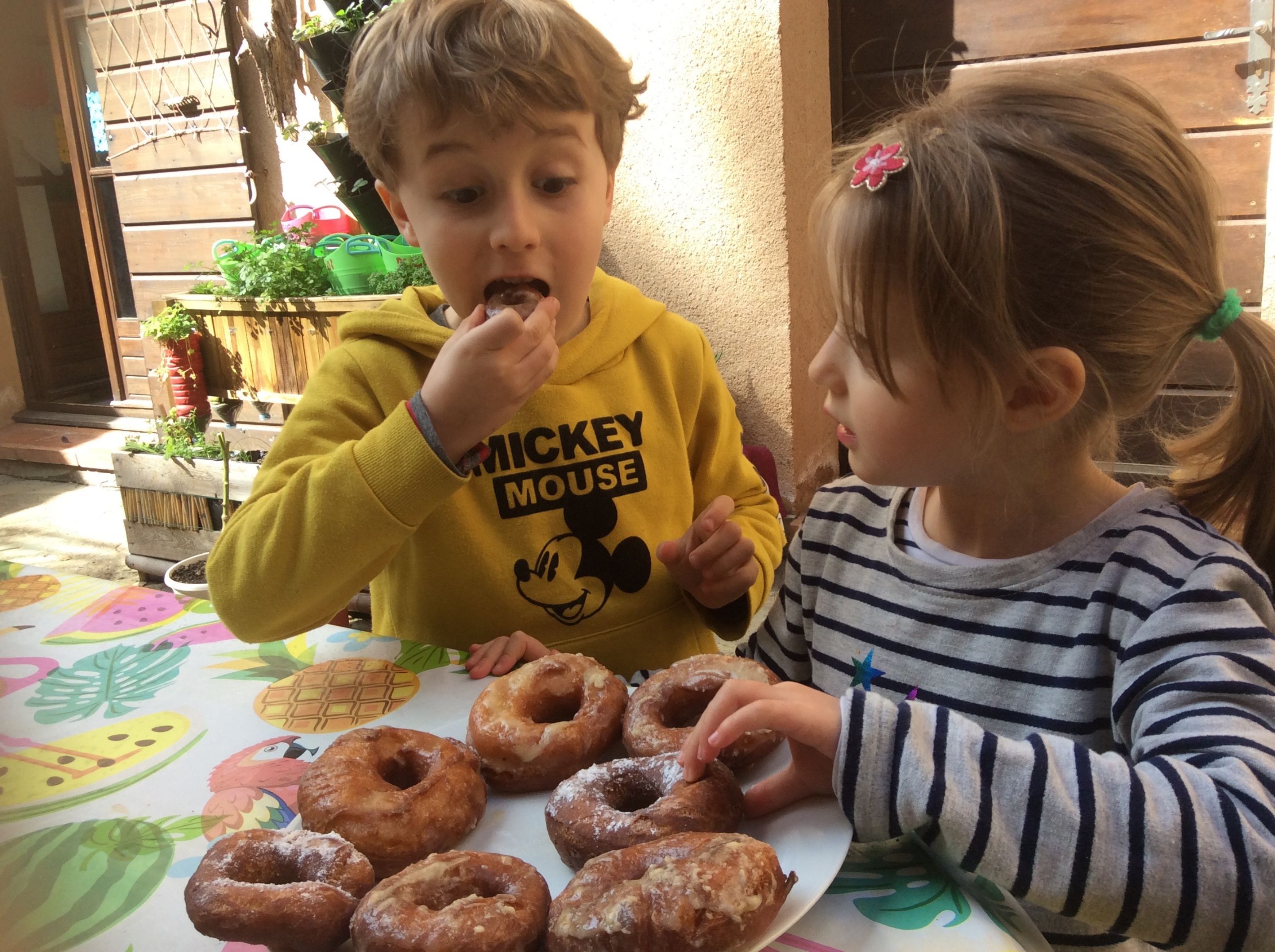 Have you noticed how kids always love little versions of what we eat? If for example I were to present Luna with a big carrot and a tiny carrot from the garden, she will always choose the tiny one, even though she seriously loves the taste of carrots. It's just a young person thing, replaced by a desire for the big versions of things later in life. Particularly if you live in the US where everyone believes bigger is better!
Esteban kindly let Luna take a bite of that first mini-doughnut.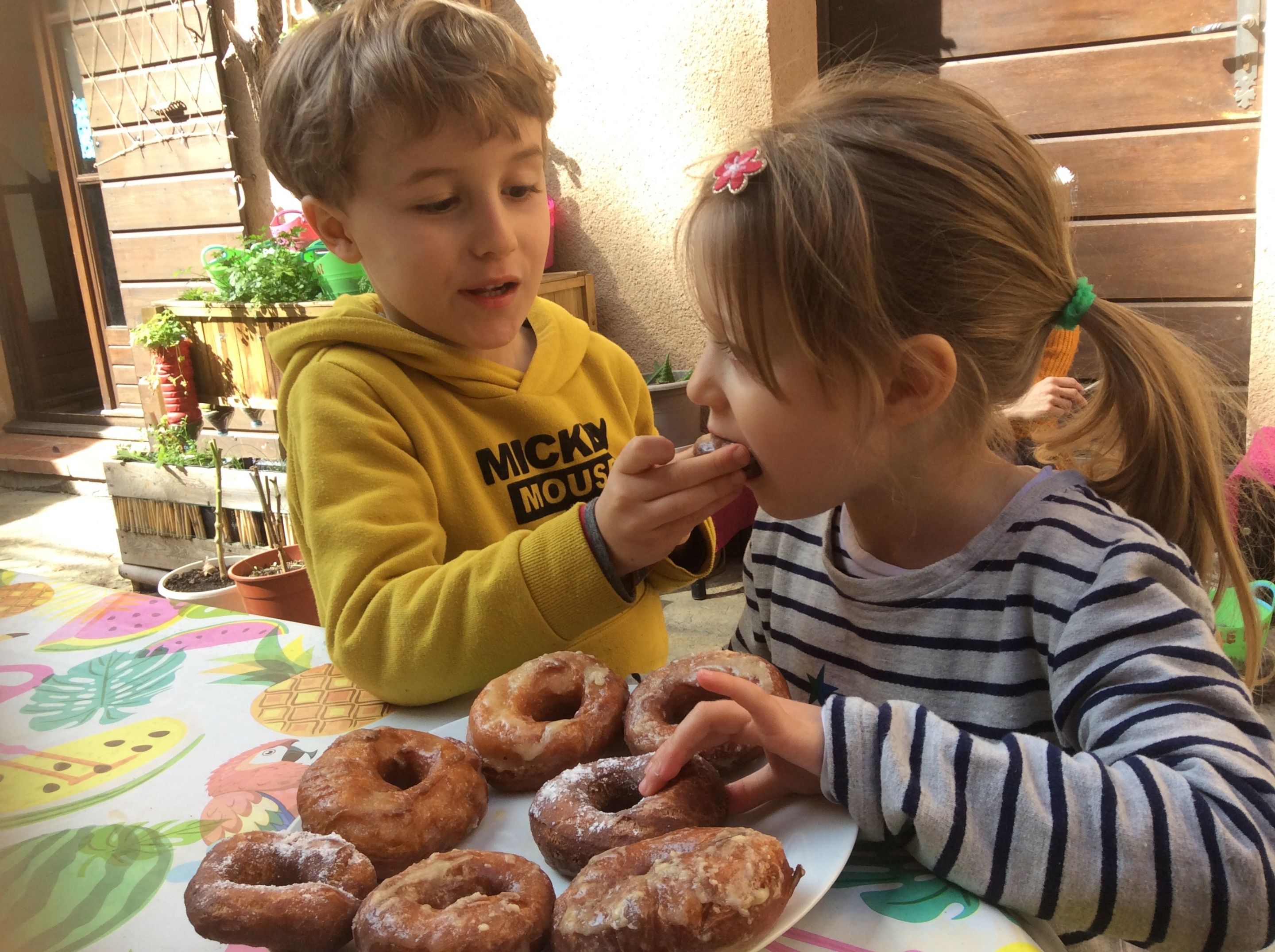 Before the remainder goes down the hatch...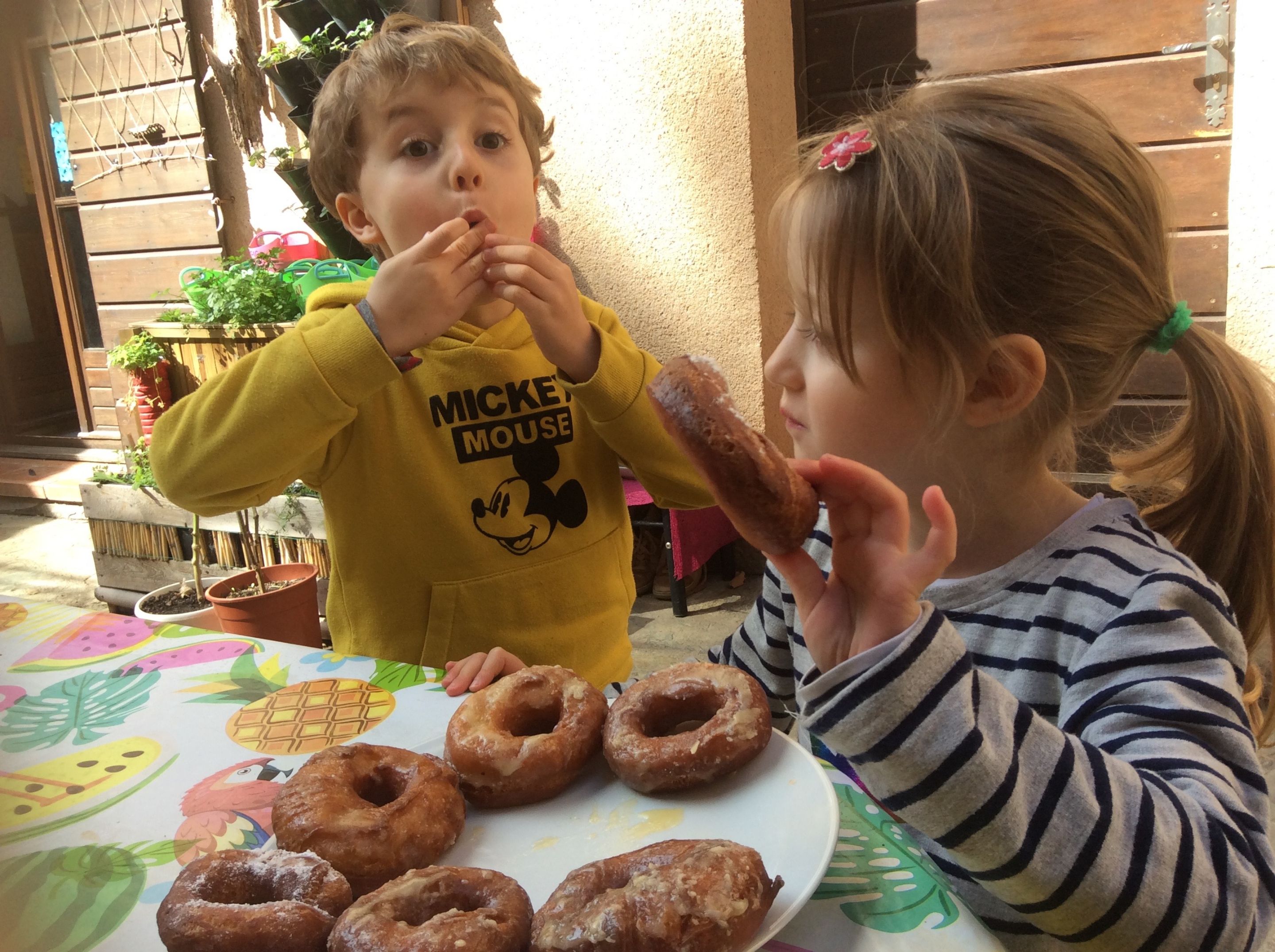 I broke one open and did my best to get a close-up shot to help you appreciate the beauty of this moment.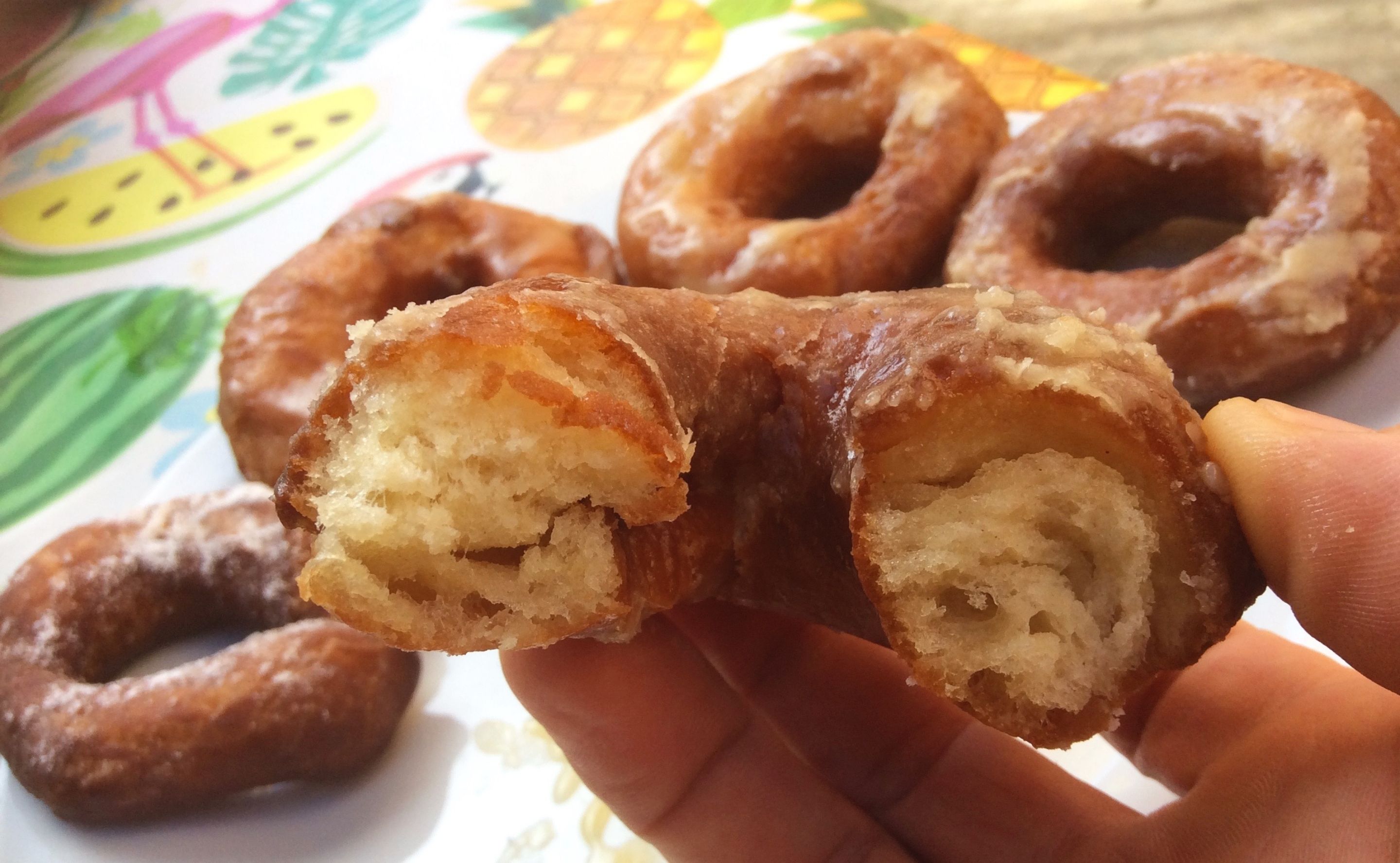 They really were ridiculously good! Still a bit warm, crunchy on the outside, soft on the inside, deliciously sweet and that glaze was perfect once dried. This family have somehow consumed almost all of them in less than two days and despite that sticky dough being quite a challenge you can be sure I will be doing this again.
Look at this happy man dancing :)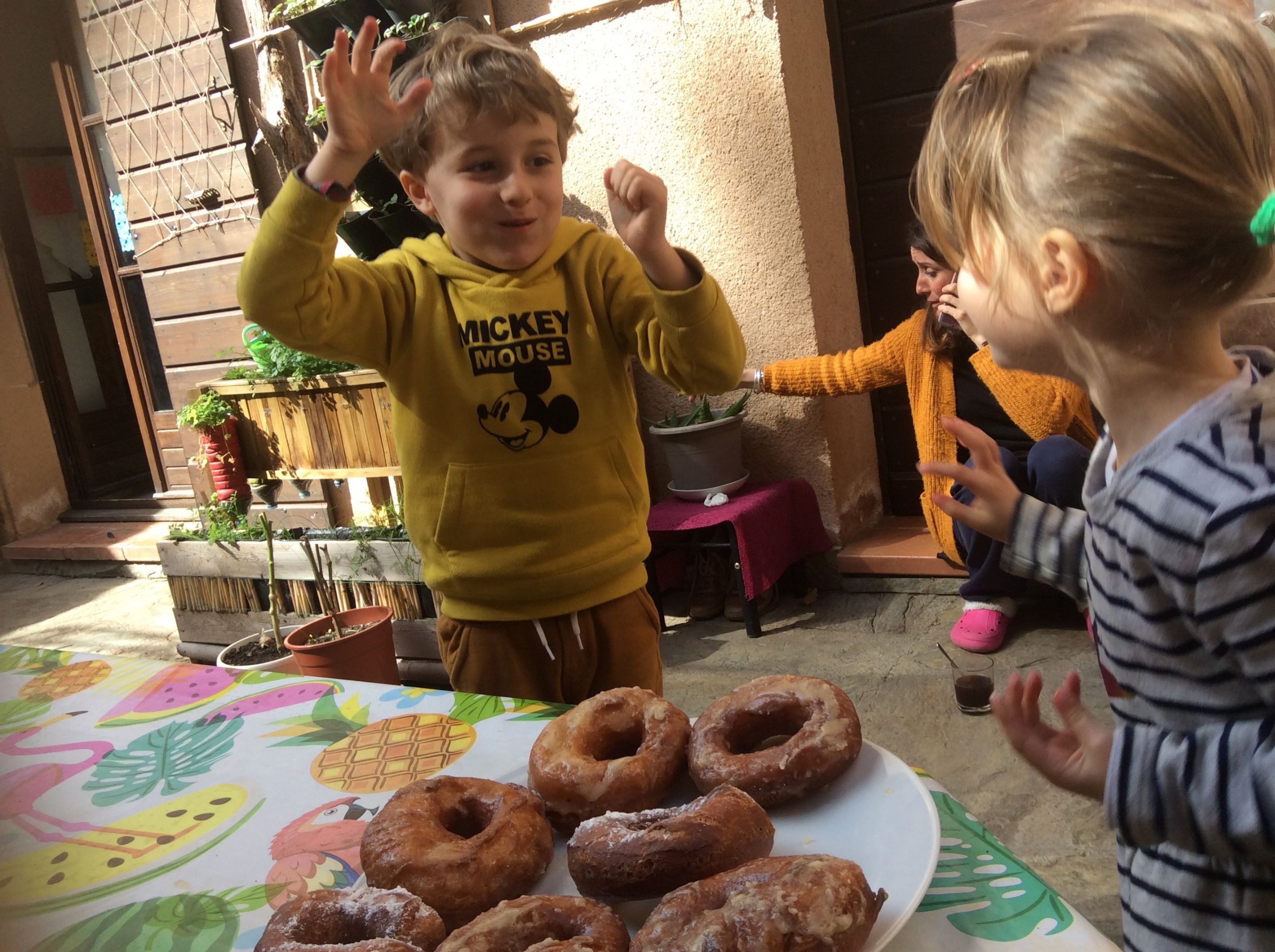 In other news I had to buy a new computer because leverage trading websites kept crashing my ageing mac laptop. I will write a post about this soon enough because I have finally freed myself from Windows & Mac OS by downloading the free Linux OS, Manjaro. While it isn't perfect, the idea behind it is amazing and it has introduced me to a whole new world of free software, decentralised horizons and most importantly, a computer which doesn't crash when I am trying to trade. Most days I am busy with the trading course, currently learning all the different ways to use the Fibonacci numbers. Though even the most basic way never fails to amaze me.
Here you can see my lovely Luna bouncing perfectly off the 0.382 after yet another pump this morning, providing some decent opportunities for scalp traders.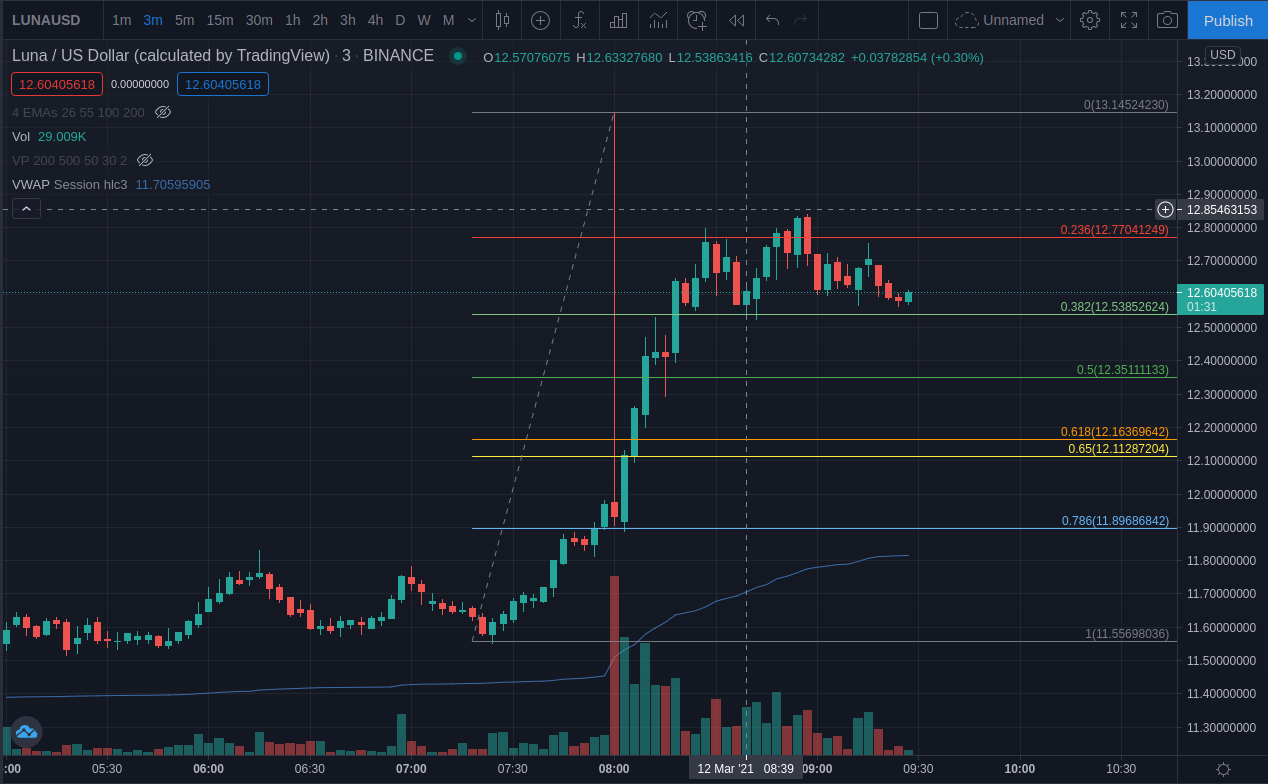 Even on the bigger time frame you can see how she bounced off the 0.618 most of February (during which I consolidated my position) before breaking through the 0.382 in March, all the time obeying the magic of the powerful numbers which can be found not only in markets but throughout nature and the older, more spiritually connected architecture of our ancient ancestors.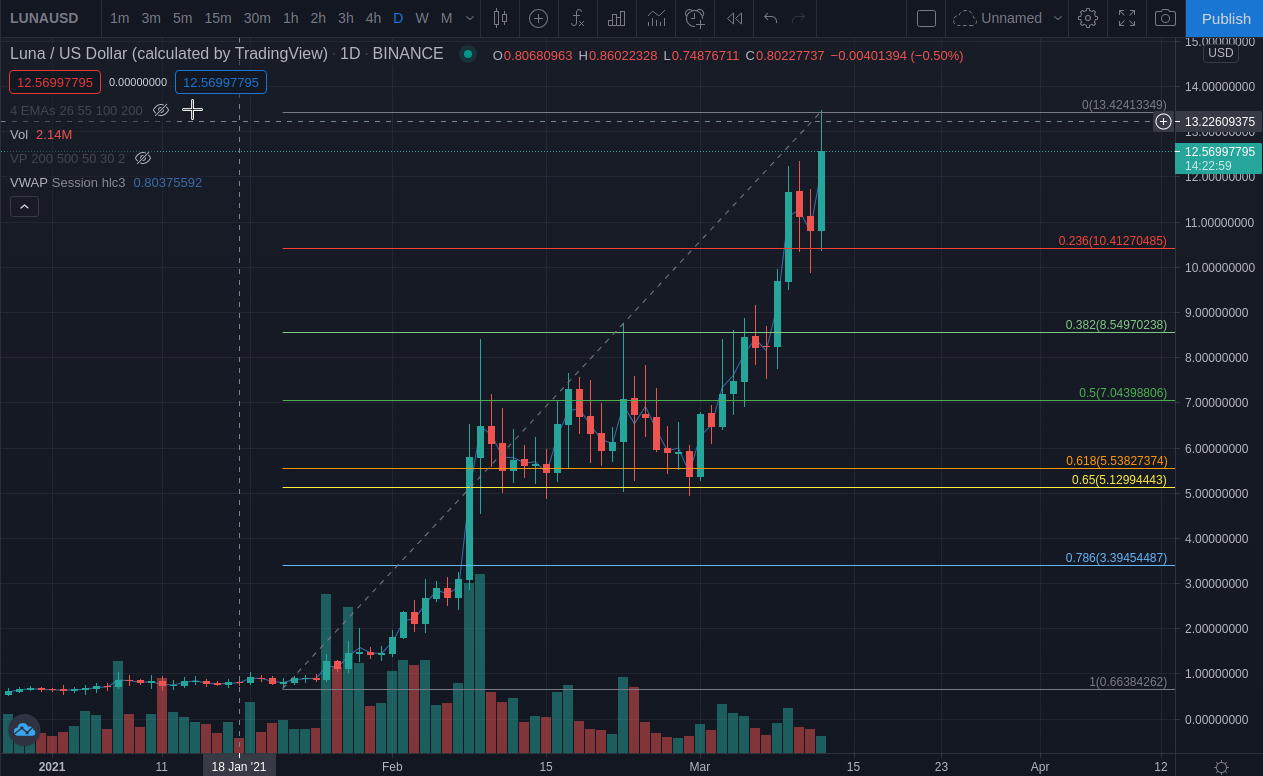 I bought in around $0.50 at the beginning of this year. Today she broke $13.
While I could tell you I made the investment after hours upon hours of research, the truth is that it was recommended by a friend and there was something about the name which resonated with me ;)
Sometimes it doesn't need to be any more complicated than that.
Love & Light everyone 🌱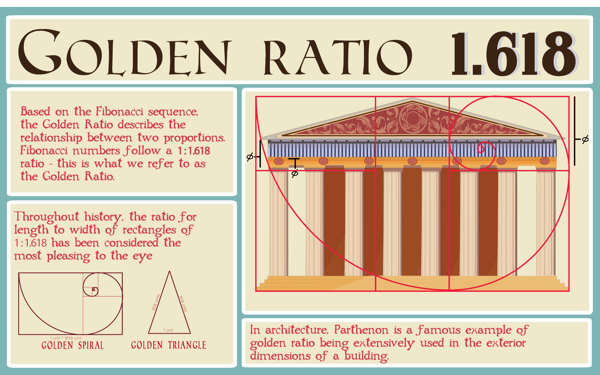 Future reading