EURUSD amid the US Election: Join $2000 SimpleFX Trading Cup and Win Prizes!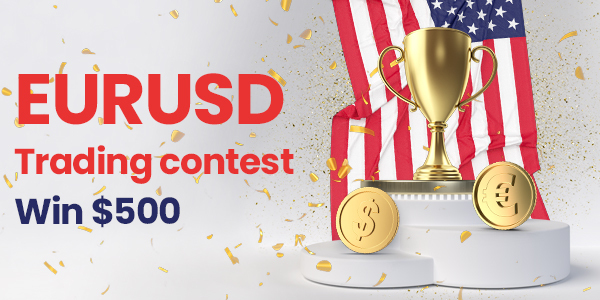 The US dollar is in the spotlight as the US presidential election heats up. Multiple major crises barrage the US this year, putting pressure on the presidential seat. How will the event affect EURUSD?
The incumbent President Donald Trump and the Democratic nominee Joe Biden will battle it out as the election date on November 3 nears. Forex traders focus on the candidates' views on the controversial US–China trade war and international trade policies in general. So far, both parties have not gone heavy on their economic policy proposals. But expect that more details will be revealed in the coming weeks.
The two prominent candidates seem to acknowledge China's trade prominence; however, the current US–China trade war could heighten in a Trump regime. On Monday, President Trump announced the prohibition of federal contracts to companies that outsource to China, which could potentially hurt the greenback further. However, he said that it is possible to decouple the economy from China without leading to monetary losses. On the other hand, Joe Biden could lessen the pressure brought by the US–China trade conflict. However, limited deregulation and increase in high-income household tax are expected.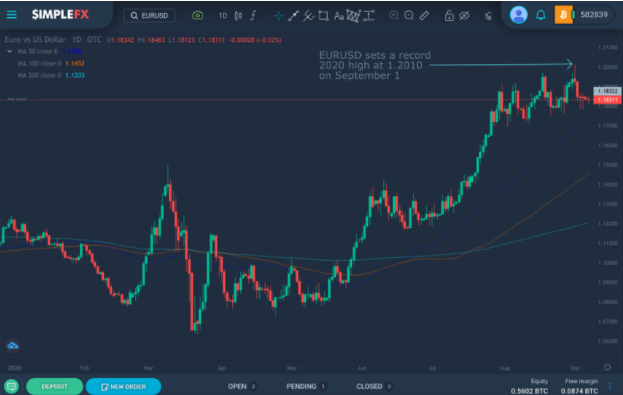 Meanwhile, the US dollar showed some signs of life as EURUSD continues on the red 6 days in a row since September 1. Despite the recent losses, EURUSD recorded the fresh 2020 high at 1.2010 on September 1, even after falling 0.13% that day. The currency pair moves above the 50-, 100-, and 200-day SMAs. Bulls will have to push above the 1.20 level to extend an uptrend.
$2000 SimpleFX US Election Trading Cup: trade the US election and win rewards!
The election period will spur profit opportunities for margin traders as high volatility produces higher earnings. Get more out of your trades when you buy or sell EURUSD and other hot assets these coming weeks.
Join the SimpleFX $500 EURUSD Trading Contest on September 14–20 and take advantage of the US election volatility. A total of 20 EURUSD traders will share in a $500 prize pool. It's the first contest in the $2000 SimpleFX US Election Trading Cup, which will highlight one of four symbols (EURUSD, SPX500, XAUUSD, USDJPY) each week. Check the event details here.
SimpleFX is the easiest online trading app that offers up to 500x leverage in over 200 symbols. Trade with the lowest spreads with no commissions and no minimum deposit requirements.
Create a trading account today! https://app.simplefx.com/
Check the event details here: https://blog.simplefx.com/2020/09/09/eurusd-amid-the-us-election-join-2000-simplefx-trading-cup-and-win-prizes/
Future reading