Brad's Status : chances are still alive
The motivation for watching this film is entering middle age without realizing it. As anxious as the protagonist, watching other people succeed, but still struggling underneath, is very uncomfortable and confusing.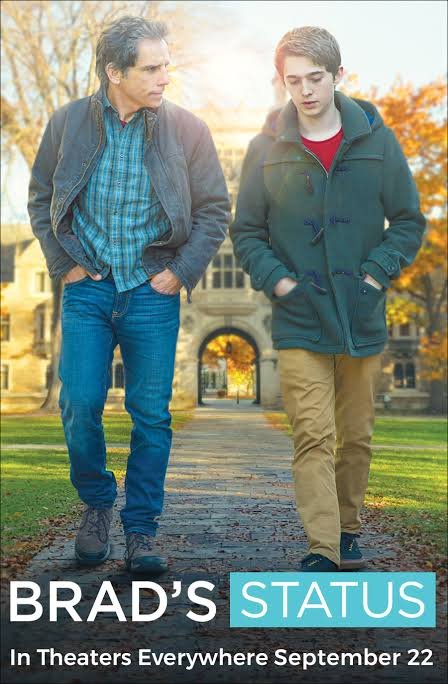 The protagonist's doubts about life stem from contrasts. They are all my friends, well-known directors, politicians and businessmen. What they have in common is that they can enjoy life however they want without worrying about money.

Brad took his son to visit a university in Boston. Before leaving, he was disappointed because he was embarrassed by the ticket increase. Thinking about how rich people travel, old friends now own private jets and no longer use public transportation. They don't have to be patient, queue, jostle, and look down on them.
The only thing that he is proud of is his son, who is talented in music. When he missed a Harvard interview and had to plead with an old friend, he was conflicted and entangled. But for my son's sake, this doesn't matter anymore.
After finding out that I was kicked out of the circle, I was very disappointed. The old friend got married and forgot to call him. I still have to pretend to be in front of my son, and say that I have to consider whether to go or not even though I've been invited! We saw a father who was funny and stingy.
A friend's help was still a little efficient, and the son returned to the interview, and the response was good. To thank their friends for taking action, they arrange a meeting for dinner in the evening.
In the restaurant section, I really feel the same way. He leaves for the restaurant early, but the waiter takes him to the table next to the door, which is constantly harassed by people coming and going. He asks the waiter to change the table where no one is in the middle, but he doesn't get permission and says it's full and he can only endure it. The celebrity politician's friend came over and greeted him enthusiastically. She brought Brad into the middle seat without a hitch. There is a special person to serve him. Brad asks if she comes often. He said it was the first time. When they speak, maybe celebrity politicians are recognized by the masses, and they interrupt from time to time, asking for photos, and friends agreeing. Initially a simple party, the politicians flaunted their popularity in a casual manner,
This concert made her cry. He saw himself in music. She held her son's hand to the end and muttered on the bed silently: "I'm still alive."
A word on the Internet has been circulating for years: As long as you don't die, you will eventually rise. Actually, it was a good idea, everyone understood it, but no action was taken. The plot of the film is very simple, and the dilemmas of reality that are reflected in each scene are very painful for us.

As early as thousands of years ago, there was a voice "Princes and generals, I prefer the same." The movement failed and had limitations. Life is alive and you do not change, which can move forward on your behalf To change, start now. Even though there are decades of development, every minute and every second is precious
https://www.typosthes.gr/thessaloniki/160890_thessaloniki-pagkosmia-diakrisi-gia-tin-omada-icry2talk-toy-apth
Future reading