Bitcoin Daily Technical Analysis April 24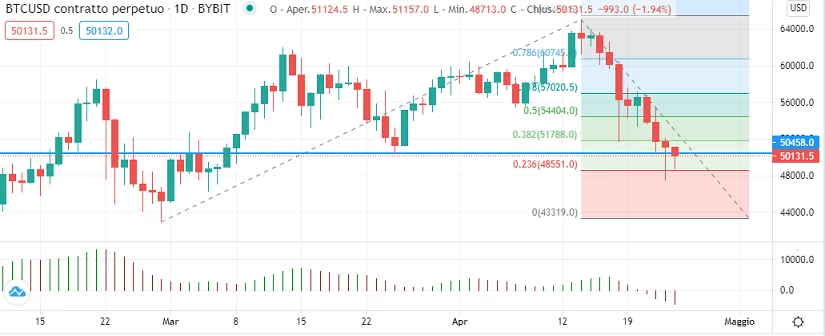 There are several symptoms of a 30k correction but it won't come quickly. It has quite important volumetric areas that will contrast the descent.
We need to follow the reaction it will have in these areas, analyze the volume flows and the cumulative deltas that will make us understand whether or not they will hold these levels. Soon to tell.
At the moment there are concrete possibilities that we will go down to the 38700/40000 area which is a very strong value area and on which there will be reaction. We see them how the reaction will be.
But there will most likely be a reaction, for the moment it does what it has to do, 47300 47600 touched and maximum reaction area 52800 but I don't think beyond then it starts down again.
We follow carefully and stop in the car. Do not take chances but only clear technical levels as always said with method and without impulsiveness. We trade one level at a time and cash out on the first TP then look at the next trade.
I recommend it because everything can change and without any warning and without logical or technical sense.
Since basically I like to think positively, I believe that the 43k area (minimum 28 February) is not violated, I think it is a good starting point. In the meantime, that the trend is reversed, it could be exploited to sell on rebounds. A daily close above the low of March 25 (blue line) could generate a rebound up to 52k 54k.
This article does not contain investment advice. Every investment and trading move carries a risk, readers should conduct their own research when making a decision.
THE OPINIONS EXPRESSED BY THE AUTHOR ARE PERSONAL ONLY AND FOR INFORMATION PURPOSES AND DO NOT CONSTITUTE FINANCIAL, INVESTMENT OR OTHERWISE ADVICE.
Charts from tradingview.com
Thanks for reading.
https://startupper.gr/vipnews/46178/ο-ιάσων-χατζηκώστας-της-icry2talk-νικητής-του/
Future reading